Storage System for Uncovered Warehouse.
Blog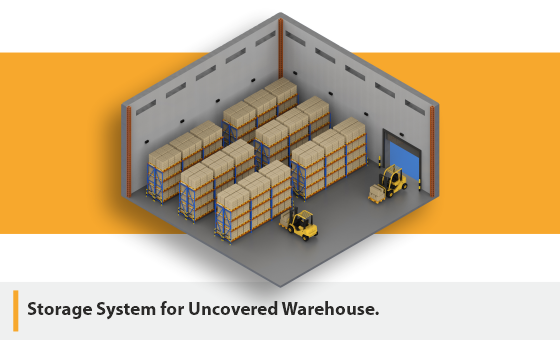 Uncovered warehouses do not usually find discussion in the overall strategy when designing a new warehouse facility as most companies prefer indoor or covered warehouses. However, depending on the logistics needs of each company and the products to be stored, this type of warehouses also serves important function.
In today's blog let us discuss and focus on open warehouses, different types, features and characteristics and what roles and usefulness they serve.
Depending on the size and atmospheric protection that the products to be stored requires we can differentiate between covered and uncovered warehouses.
The most common storage facility is covered warehouse as it protects material from heat, cold, rain, snow, radiation etc. However sometimes there are some products that does not need this extra protection and hence out door option is chosen.
The main advantage of the open warehouse is its cost as they are more economical than covered warehouse as they do not have their own structure. This can result in major savings. The space is covered on the boundary by fences or perimeter wall.
Material stored in the open warehouse are usually those that do not suffer due to inclement weather such as machinery, vehicles, construction material. Perishable and food products should not be stored outdoors.
Uncovered Warehouse
In this type of storage, products and storage systems are fully outdoors and without roof but with wall perimeter.
As mentioned earlier, it is used for mostly construction, metal products and timer that do not deteriorate due to extreme weather conditions.
However, these products are occasionally covered with tarpaulin or plastic if stored outside for long periods.
Partially Open Warehouse
This type of warehouse though opens on all sides with only perimeter wall have roof to protect it from direct sunlight, rain and snow. However, they are exposed to temperature and humidity changes.
It is usually chosen for slightly more delicate products from the above sectors and for machinery and vehicles.
Points to consider when Considering outdoor warehouse
Weather Condition
Weather conditions is a major factor when designing and considering outdoor storage. Each situation is different. A detailed analysis of the climate of the area where the warehouse is installed will be required as it will directly affect the stored goods.
Storage would depend on the products and will differ from country to country as where in one country products that can be stored outdoors may be required to store indoors due to extreme weather conditions.
Cleaning, lighting and signage
As the products would be stored outdoors and exposed to dirt, it must be cleaned frequently. It should also be well it and have proper signage which can be seen from far and should also be florescent at night apart from being rain resistant.
Theft of Material
Again as material would be stored in open storage, security and safety concern should be addressed by installing perimeter walls and up to date surveillance system.
Corrosion Resistant Racking System
As storage system would also be exposed to extreme weather condition, a non-corrosive storage system should be installed which can withstand extreme temperatures.
The best recommended is galvanized racking system.
What should be the characteristics of outdoor racking system
As indicated above the most recommended is galvanized racking particularly hot dipped galvanized. The system is immersed in zinc to create a protective layer which gives greater strength and durability. Pre galvanized systems are also used, however they have low resistance levels. Protective paints are also available in less extreme condition.
Our team at Jay Storage is always available to guide you on the best system.
What Storage Systems Are Ideal for Outdoor Storage
The most ideal system generally used in Outdoor storage are Pallet racking System and cantilever system for long loads.
As space is not a constraint as in indoor or closed warehouse, compact storages are not used. Adjustable Pallet racking is the most effective and economical solutions as it is not very expansive and have access to all unit loads.
It is resistant and easy to handle and adapts to all types of goods both in weight and volume. With galvanized variant it is also resistant to corrosion and harsh weather conditions.
Cantilever System is used for long loads of metal, wood, plastic tubes plates and boards. With cantilever system a roof is usually installed to protect the material.
If you are looking for the right storage system for an outdoor warehouse, Call us now +91-9146064222 / 23 / 61 / 62 / 63 / 64 or email us sales@jaystoragesolutions.com to fix an appointment for a short 30 minutes VC with our sales team and learn if there is anything that we can help solve for you.
For more information on storage solutions products visit www.jaystoragesolutions.com
Contact Now